Simon Chainsaw – the man who helped make Daibutsu Rock N Roll 7″ happen and famed for being an instrumental part of the Vanilla Chainsaws, has announced tour dates down the East Coast of NSW finishing in Melbourne with his solo band The Liberators who are renowned for playing hard and fast.
A regular on the Sydney circuit, Simon Chainsaw recently opened for Japan's Mustang Jerx on their bombastic return 2019 tour and has also previously played with legends The Dead Set, White Knuckle Fever and the Shit Tinnies as well as being on the road alongside icons like Marky Ramone and Chris Mazuak (of Radio Birdman, The Hitmen and The Screaming Tribesman fame).
No stranger to playing in strange places with unfamiliar faces, Simon has toured Europe and South America extensively and has an equally impressive catalogue of albums. The first of his Melbourne weekend gigs starts at the iconic Bombay Rock in Brunswick where he will join forces with old mates Muscle Car (originally from Adelaide but now like to call Melbourne home and have a style of hard hitting brain bleeding Ramone-infused New York style punk), As A Rival (a quartet of smashingly banging guys that make ugly sound beautiful), BIFF (a garage punk trio that leave you pleading for more) and RQTBL (who while relatively new to the punk scene who bring with them an energy that will no only leave you hanging but most definitely have you question why they are not on every major bill in town).
Chainsaw's second gig is at the legendary Young Street Supper Club where they will kicking it with Siltman (a band that not only dominates but produces some insanely cool blues rock), Riff Raiders (who not only notched up over 30 gigs in 2018, but garnered incredible worldwide attention with their album "Live Like You Mean It" and are furiously charging towards their new release mid 2019) and Fake Taxi (a bunch of Frankston'ites who just wanna play smash out their new songs surrounded by mates and fans)
Limited march will be on offer, so it's time to get down, get bloody and Chainsawed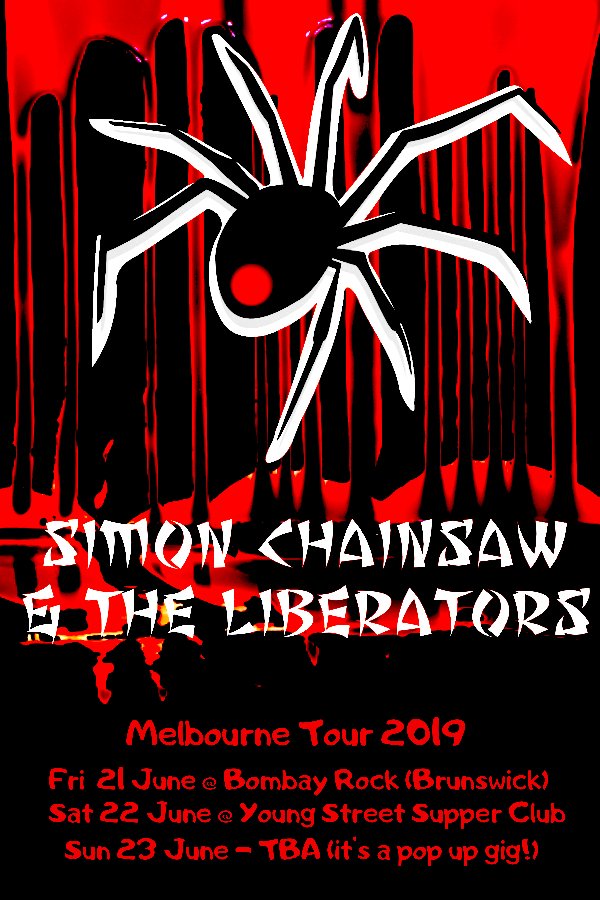 21st June 2019 Bombay Rock 303 Sydney Road Brunswick 8:00pm til late
22nd June 2019 Young Street Supper Club 12 Young Street Frankston 8:00pm til late